How to Recover Files on Windows7?
Now computers have become an indispensable part of life and work, and almost all work will be used. Windows 7 is an operating system officially released by Microsoft in July 2009. It is also the largest market share operating system up to now. Many of my friends often delete important files by mistake when using Windows 7. For example, important documents, photos, videos, and some other files. Now let's talk about windows 7 and how to recover the missing files on Windows 7 using iFinD Data Recovery.. 
According to the author's experience, the main reasons for the loss of win7 system files are:
1 Partitions are formatted. For some reasons, we need formatted partitions, and formatted partitions cause all files to be lost, but we often forget to backup files before formatting.
2 : Virus attack: at some point, if our computer is accidentally infected with a virus, the virus may delete some important files.
3 Operating system crashing: When the computer is running for a long time or human operation error; it is easy to overheat and cause problems on the computer. At this time, it is very easy to cause the risk of the operating system crashing, resulting in the loss of files.
4 Partition Lass: Because of malicious software attacking MBR, such as Rombertik virus in 2015, or human operation error, Result in partition loss and all of the data loss.
5 Device Not Recognized:Because of some errors in the relevant drivers or some unknown errors in the device, the operating system cannot correctly identify the device.
6 Card Unreadable: Losing all photos on the SD card may be disturbing. Everything can now be stored on SD cards, from photos to important sensitive data. However, like any other electronic storage device, photos can disappear in some way or the SD card suddenly appears unreadable.
7 Recycle bin empty: Some friends in life often take a long time to work, making their own rest time less lead to lack of concentration, accidentally delete all important data, and directly empty the recycle bin. This situation is something we do not want to see.
In fact, for computers, all the stored data is stored in the hard disk, so the files in the computer are all placed on the hard disk. What kind of hard disk is it? In fact, the internal hard disk of the computer is what we usually see. C disk, d disk, e disk, etc., the specific hard disk partition according to each computer, each system is different, some computers can be separated from the f disk, h disk, and some computers are only a simple two or three disks. In the process of using a computer, we always encounter the situation where the loss of system files causes the computer to malfunction. This article explains how to handle computer files when they are lost.
Win10 seems to be an upgraded version of win8, compared to the win8 system to bring a lot of improvements, but also brought a lot of new features. The following is a summary of the author's new features on Windows 10.
1 Compared with Vista, Windows 7 has faster response speed and faster boot times.
2 Compared with Vista, Windows 7 has better compatibility. Many programs can run directly on Windows 7 without upgrading.
3 Compared with Vista, Windows 7 can run the system smoothly with Lower hardware requirements.
4 The most important improvement in Windows 7 is to improve the speed of search, and put forward the concept of "library", which can be seen as a huge boost to "My Documents"..
5 Redesign TaskBar/Start menu to make it more powerful and easy to use.
6 Windows 7 Add new visual feature is called 'Aero Shake', If you have many windows, but you just want to focus on one window, you can use this function. It's amazing and efficient.
7 Windows 7 Add new feature is called 'Stacking', You simply drag a Window to the sides of your screen and it will stick automatically to the side filling half the screen, Move to the top and it will maximise to the whole screen.
After introducing the new features of Windows 7,we will introduce a free data recovery software to recover lost data on Windows 7. First click the download link to get the software: https://www.ifind-recovery.com/.
Step 1
Download iFinD Data Recovery Software.
Free download iFinD Data Recovery immediately and then install it to your local drive or external disk that doesn't include any files waiting to be recovered. After that, you can launch the software to start recovery.
Download
Outstanding features of iFinD Data Recovery
It is very easy to use, so even green hands are able to complete picture recovery by looking at the operation tips.
Its scanning speed is very fast and recovery success rate is pretty high.
It is absolutely pure with no plug-in or spyware bundled.
It has excellent compatibility.:
Step 2:
Select the function:
After downloading and installing iFinD Data Recovery on computer, you're expected to open it at once to see the three functional modules in main interface. Now, we'll list the specific usage of modules you'll probably use to help you choose the best one.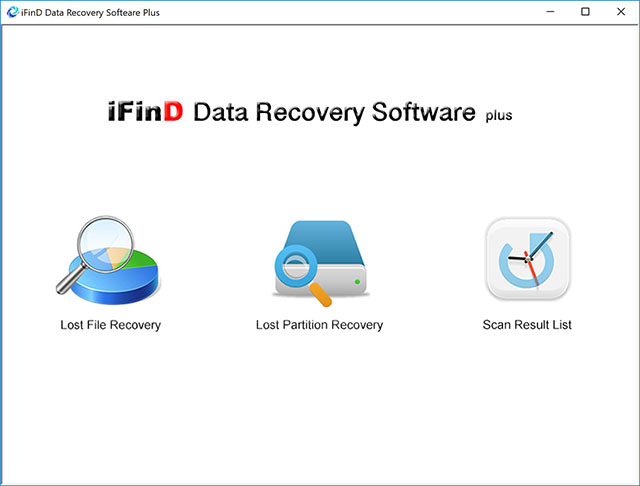 "Lost File Recovery" This feature is for file recovery on an existing partition. This partition may be destroyed or formatted, or the file may be deleted.
"Lost Partition Recovery"This function is to restore the partition after the partition is deleted or lost, and then recover the data on the partition.
"Scan Result List"This function can save your every scan result. You can choose any scan result to recover the above file, which can save you a lot of time.
Step 3:
Select the partition to be restored:
All the partitions will be listed here. Select the partition to be restored and click ''scan". If you do not find the partition you need to recover, you can try the computer to reconnect the device and click "Refresh".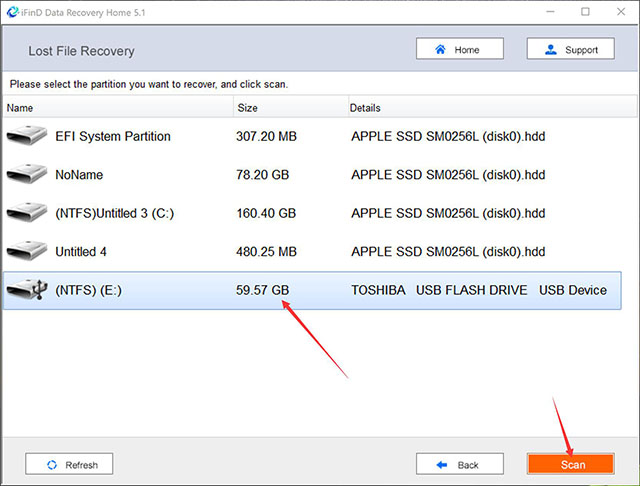 Step 4:
Scanning
Scanning: This page shows the process being scanned, and you can decide 1: stop, 2: pause, and you can see the various real-time information scanned.
1: Cancel: Click this button, the program will terminate the ongoing scanning process, and return to the device selection page of the second step, please click carefully.
2: Pause: Click this button. The program will pause the scanning process and display the found files. If you don't want to wait until the scan is over, you will know if you have found the file you need. Click this button. At any time, you can click the 'Resume' button to continue scanning.
3: This place will display the number of files found in real time. From top to bottom, all the files, pictures, media, compression, and documents are listed in order.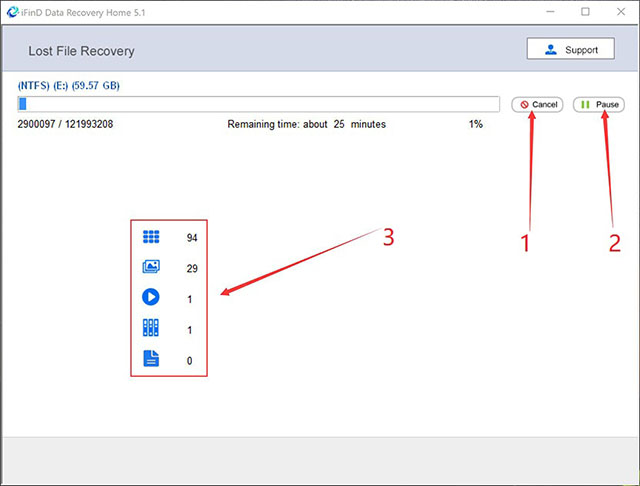 Step 5:
This place will show the found file.
1: If you do not find the file you need, click "Resume" button to continue scanning until you find the file you need.
2: If you find a file that you need to restore, click the "Recover" button, then select a local disk location, save the file you found to the local. Be careful not to save to the partition to be restored.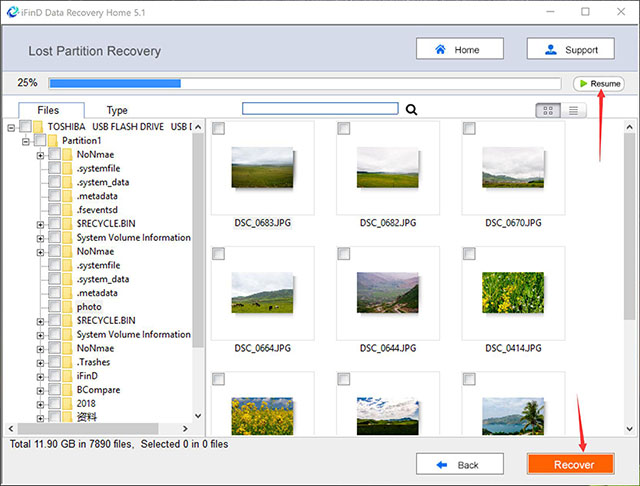 The above is what the author introduced for you - super useful Windows 7 system free data recovery operation tutorial. After many comparisons, I strongly recommend this free data recovery software. ifind data recovery is really a good free data recovery software that is very suitable for Windows 7 system.
Download