Photo Recovery
Well, congratulations! You've come to the right place. We'll now tell you the exact solutions you need. 
We realized the necessity of letting you know some frequently used formats of photos. That is because: in this way, you'll be capable of recognizing different types of photos easily by just looking at the file name (including file suffix).
1: BMP:
2: GIF:
3: JPG:
4: PNG:
5: NEF/NRW (Nikon)
6: RAF (Fuji)
7: RAW/RW2 (Panasonic)
8: CRW/CR2 (Canon)
9: DNG (Adobe)
Digital camera and mobile phone are becoming more and more popular for photo capturing. However, the internal storage of them is very limited while the requirement for large capacity to store a large quantity of photos is increasing. Noticing that, the storage equipment manufacturers start to figure out ways to make that happen so as to attract more consumers.
As you may know, storage equipment is used to receive and store data, and usually magnetic media, optical media and semiconductor media are included. Just like film is used in a film camera to save pictures, digital camera or mobile phone also needs a storage device with a certain capacity to store the pictures taken by it. A couple of storage devices you may see in digital camera or cellphone will be introduced in the following up content.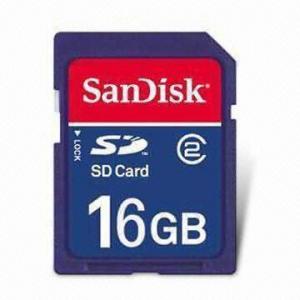 SD Card: Secure Digital (Memory) Card: it is a type of convenient device based on semiconductor flash memory technology. Its data transfer and physical specification is evolved on the basis of the MMC. Therefore, SD device is fully compatible with MMC. But in general, the read and write speed of SD card is superior to that of MMC; the former can reach 10MB/sec or more.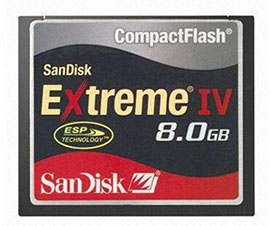 CF Card: Compact Flash Card: it is among the three largest memory cards appeared in early 1990s (the other two are Miniature Card – MiniCard and SmartMedia card). Generally, it has a read and write speed up to 20MB/sec and a maximum capacity of 512GB. It was really incomparable in the memory card field at that time. However, CF card is not widely used in fashionable digital cameras because of its relatively large size.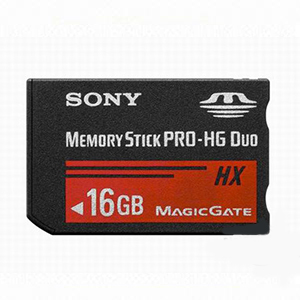 Memory Stick: it is a removable storage medium firstly developed by Sony Corporation in Japan. Memory stick is used in various Sony products, including PSP and PSX series game consoles, digital cameras, MP3 players and Sony Ericsson mobile phones, to save data like a computer hard drive.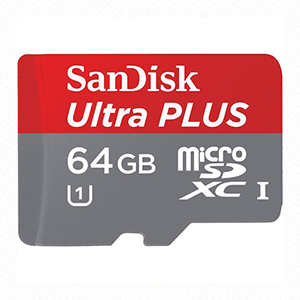 microSD: it is a type of removable flash memory card used for storing information. SD is an abbreviation of Secure Digital, and microSD cards are sometimes referred to as µSD or uSD.
You must be familiar, you are attracted to the beautiful scenery, taking pictures in different places, you may find the storage space is limited. At this point, you have to manage your photos to make room for new photos.
The most common ways to deal with these issues are: Transfer photos from your portable storage media to your computer's hard drive, delete unnecessary and delete the same photos. Unfortunately, many tragedies have taken place in this process. Users may delete useful and even useful d photos.
In addition, they may have their mobile devices invaded by viruses when they transfer photos to a computer's hard drive. This can lead to accidents that these devices can not be opened again, which means they can not see or manage all the photos anymore.
More importantly, even if all the photos a user needs have been successfully transferred to the hard drive, photos may still be lost when he or she manipulates the computer. After all, pictures of system crashes, photo / partition error removal, accidental partition formatting, virus attack, sudden power loss might all be lost. Therefore, be especially careful when doing all these things.
Step 1
Free download iFinD Data Recovery and then install it to your local drive or external disk that doesn't include the partition which any files waiting to be recovered. After that, you can launch the software to start recovery.
Download
Outstanding Features:
It is very easy to use, so even beginner are able to complete the files recovery in damaged partition.
The damaged partition recovery moudle scanning is very fast and files recovery success rate is very high.
Step 2
After downloading and installing iFinD Data Recovery on computer, you're expected to open it at once to see the three functional modules in main interface. Now, we'll select the lost file recovery module.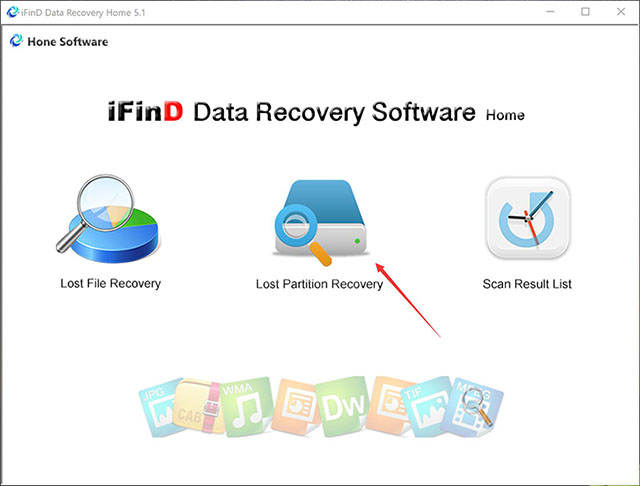 Step 3
When users select this module, they will see a list of physical devices that are connected to host computer. If the device is not found on the list, please click "Refresh" button to make the device seen in the list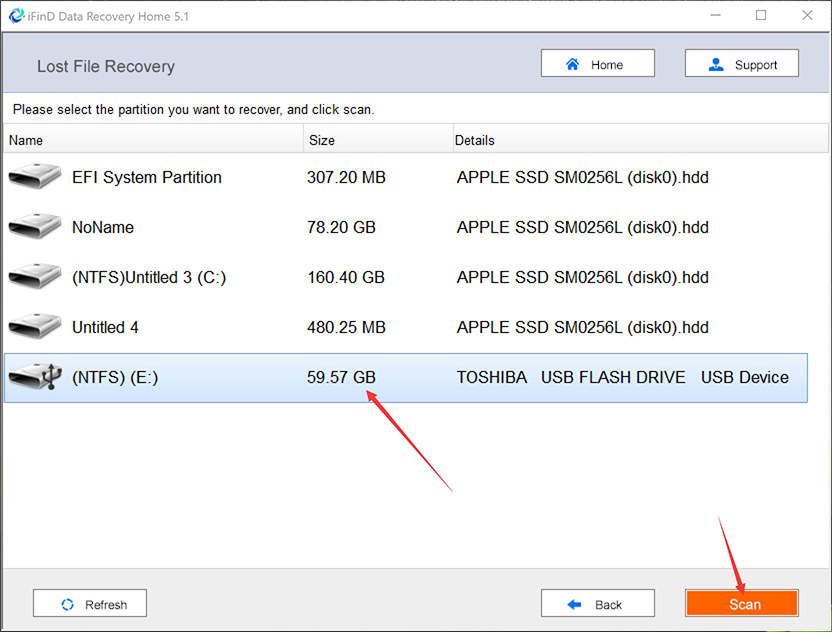 Step 4
Please select the data you need to recover and press "Recover" button to choose storage path (usually it is another hard drive).

If you want to continue looking for the files, click the "Restore" button.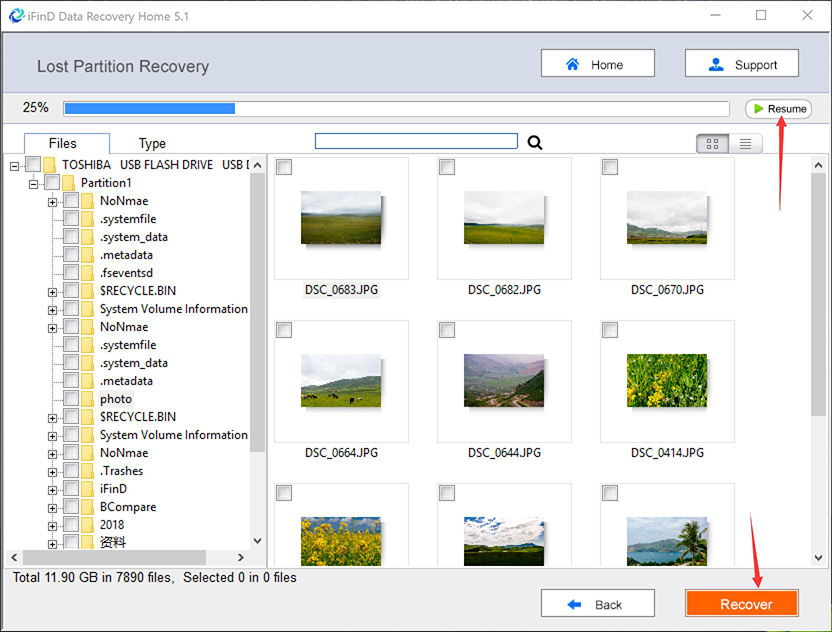 After all files were saved completely to the appointed place, you can format the disk, rebuild MBR, or do whatever you want to do.