How to recover the camera's raw image files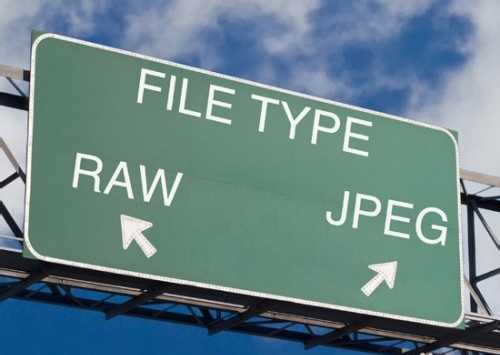 A raw image is a raw data in which a CMOS or CCD image sensor converts a captured light source signal into a digital signal. A raw file is a file that records the original information of a digital camera sensor and records some metadata (metadata such as ISO settings, shutter speed, aperture value, white balance, etc.) generated by the camera. raw is an unprocessed, uncompressed format that can be conceptualized as "raw image encoded data" or "digital negatives". The full name of the raw format is the raw Image Format. 
According to the author's experience, the main reasons for the loss of win7 system files are:
1:Raw files are information that is directly processed from CCD or CMOS without processing. Through post-processing, photographers can maximize their artistic talent.
2:The raw file does not have a white balance setting, but the real data has not been changed, that is, the author can adjust the colour temperature and white balance arbitrarily, and there is no loss of image quality.
3:Color linearization and filter row row transform are processed more quickly on the computer with a microprocessor, which allows the application of some more complex algorithms that are not allowed on some cameras.
4:Although the raw file is attached with mark information such as saturation and contrast, the actual image data does not change. The user is free to personally adjust a picture without having to base on one or two pre-set modes.
Perhaps the biggest advantage of raw is that it can be converted into a 16-bit image. That is, there are 65,536 levels that can be adjusted, which is a big advantage for JPG files. This is very important when editing an image, especially if you need to make important adjustments to the shadow or highlight areas.
1:Compared to JPG, the same photo, the size of the photo is often 5-10 times that of JPG, which is not conducive to network transmission.
2:Reading and editing require the special software.
3 Because of its huge size, the camera's continuous shooting speed, photo saving speed, and preview speed are slower than JPG.
.3fr( Hasselblad)
.ari( Arri_Alexa)
.arw .srf .sr2( SONY)
.bay( CASIO )
.crw .cr2( Canon )
.cap .iiq .eip( Phase One )
.dcs .dcr .drf .k25 .kdc( Kodak )
.dng( Adobe) )
.erf( Epson )
.fff( Imacon)
.mef( Mamiya)
.mos( Leaf )
.mrw( Konica Minolta )
.nef.nrw( Nikon )
.orf( Olympus )
.pef .ptx( Pentax )
.pxn( Logitech )
.r3d( RED Digital Cinema )
.raf( Fuji )
.raw .rw2( Panasonic )
.raw.rwl.dng( Leica)
.rwz( Rawzor)
.srw( Samsung )
.x3f( Sigma)
After introducing the features of raw files,we will introduce a free data recovery software to recover raw files. First click the download link to get the software: https://www.ifind-recovery.com/.
Step 1
Download iFinD Data Recovery Software.
Free download iFinD Data Recovery immediately and then install it to your local drive or external disk that doesn't include any files waiting to be recovered. After that, you can launch the software to start recovery.
Download
Outstanding features of iFinD Data Recovery
It is very easy to use, so even green hands are able to complete recovery by looking at the operation tips.
Its scanning speed is very fast and recovery success rate is pretty high.
It is absolutely pure with no plug-in or spyware bundled.
It has excellent compatibility.:
Step 2:
Select the function:
After downloading and installing iFinD Data Recovery on computer, you're expected to open it at once to see the three functional modules in main interface. Now, we'll list the specific usage of modules you'll probably use to help you choose the best one.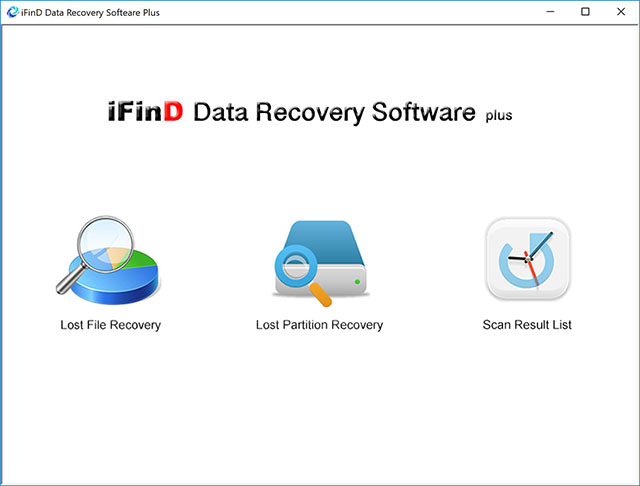 "Lost File Recovery" This feature is for file recovery on an existing partition. This partition may be destroyed or formatted, or the file may be deleted.
"Lost Partition Recovery"This function is to restore the partition after the partition is deleted or lost, and then recover the data on the partition.
"Scan Result List"This function can save your every scan result. You can choose any scan result to recover the above file, which can save you a lot of time.
Step 3:
Select the partition to be restored:
All the partitions will be listed here. Select the partition to be restored and click ''scan". If you do not find the partition you need to recover, you can try the computer to reconnect the device and click "Refresh".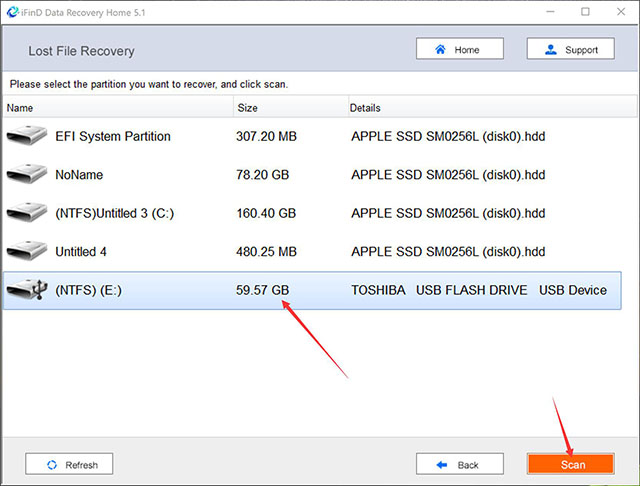 Step 4:
Scanning
Scanning: This page shows the process being scanned, and you can decide 1: stop, 2: pause, and you can see the various real-time information scanned.
1: Cancel: Click this button, the program will terminate the ongoing scanning process, and return to the device selection page of the second step, please click carefully.
2: Pause: Click this button. The program will pause the scanning process and display the found files. If you don't want to wait until the scan is over, you will know if you have found the file you need. Click this button. At any time, you can click the 'Resume' button to continue scanning.
3: This place will display the number of files found in real time. From top to bottom, all the files, pictures, media, compression, and documents are listed in order.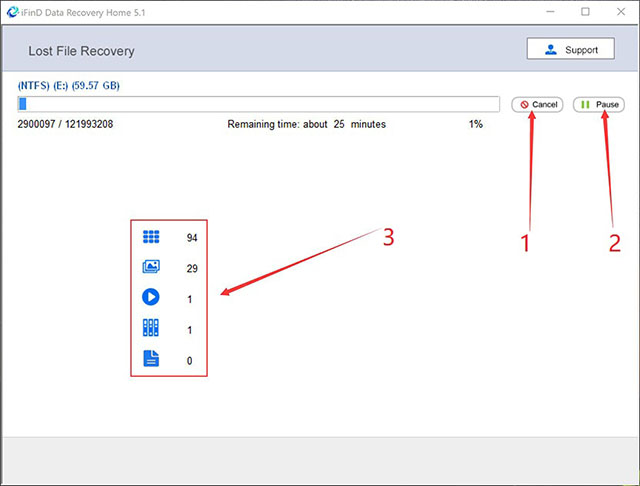 Step 5:
This place will show the found file.
1: If you do not find the file you need, click "Resume" button to continue scanning until you find the file you need.
2: If you find a file that you need to restore, click the "Recover" button, then select a local disk location, save the file you found to the local. Be careful not to save to the partition to be restored.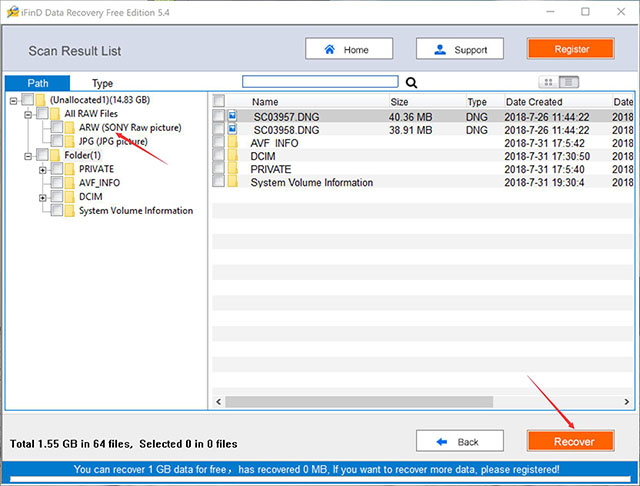 The above is what the author introduced for you - Super useful digital camera raw format image free data recovery operation tutorial. After many comparisons, I strongly recommend this free data recovery software. ifind data recovery is really a good free data recovery software that is very suitable for recover raw format image.
Download